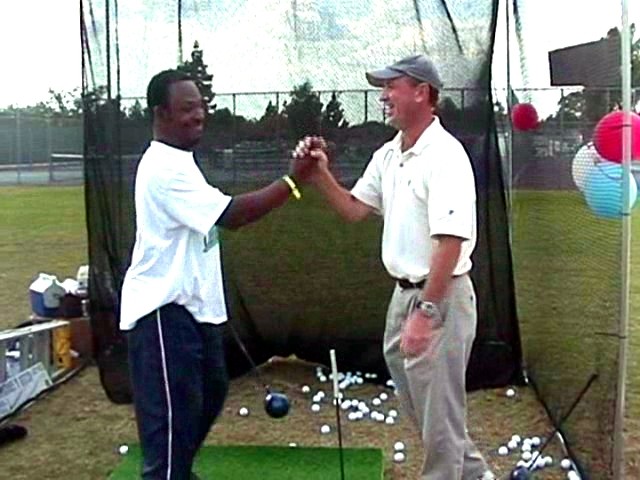 Chris MacDonald is an inventor, innovator and educator. His invention T-Golf is an industry "game changer". T-Golf, won the prestigious "Editor's Choice" award from the industry's # 1 publication, Golf Digest. It also won the New York State Therapeutic Recreation Association's (NYSTRA) "Innovative Therapeutic Program of the Year Award"
With almost 5 decades of golf experience, Chris has given numerous productive, fun, successful swing seminars and instruction to individuals and groups at traditional and non-traditional golf venues. Chris knows that Golf is a GAME and not some mystical event. Golfers place their skills against a golf course opponent. Here's how you play: If you shoot under par, you win. If you shoot even par, the course did its' job and you met the challenge. It's a tie. If you shoot over par you lose. Simple.
Chris has spent the last 5 years working alongside PGA Teaching pros to get an insight into how that game is being taught. Among the events, organizations, groups and individuals he has worked with are: The FedEx Deutsche Bank Championship (Military Outpost, Kid's Village, Deutsche Bank Hospitality tent), National and Regional PGA Shows throughout the country, USGA events, PGA Center for Learning and Performance, Tiger Woods Foundation, First Tee Events, Jim McLean Golf School at Doral, PGA Master Professionals, PGA TOUR Academy at Sawgrass, National Golf Course Owners Association, Special Olympics, USGTF pros and many other golf industry and corporate groups. Chris and T-Golf have been featured on television, radio and in published articles in "Golf Digest", "PGA Magazine", "Fore Magazine", "Golf Range Magazine", "Las Vegas Journal", "Florida Golf News" and many others.
He has been a featured speaker on multiple occasions to Senior Leadership at PGA of America Palm Beach Executive Headquarters. The PGA Director of Instruction for women and children introduced him saying, "Listen to every word this man is about to say. What he says is irrefutable." Chris joined an elite group in 2006 when he was selected to run the full swing component for all of the participants at Tiger Wood's annual "TWF" event. Tiger was in the midst of his world record streak of 281 weeks with the World # 1 ranking.
About 25 years ago, Chris became immersed in the game's "teaching theories" with one goal: to crack the DNA Code of the golf swing. He took a common-sense approach to the task and set an indisputable baseline. In order to come up with a solution, he thought, one has to fully understand the problem. That's the baseline. As he set about his journey, he discovered that there are many myths surrounding golf and swinging a club at a ball. Somewhere the game lost its' way and started to evolve into some sort of complicated, mystical or mythical event where only a select few are destined to succeed. Over time, and in recent years, he watched in disbelief as well-meaning people, from PGA pros to casual golfers, dispensed inaccurate instruction. He has seen children to seniors reduced to tears by this well-meaning "coaching". Sadly, and far too often, he watched people get so frustrated and humiliated that they quit. This exasperated him. He was determined to find the solution.
Chris knew there had to be a better and more efficient way to teach this great game. He began reading scores of golf instruction books. He treated these books as his "textbooks" and worked them over with highlighters, and made copious notes. He was searching for "foundational commonality" from the experts. As he read and studied the incredible information, he started to understand how to efficiently hit a golf ball. At times, this was a cumbersome task. Great players and great instructors were sometimes tedious with their wording in a good way. Some were beyond eloquent in their expression. However, Chris always learned something, even if it was the same concept expressed in a different way. His favorite book "Professors" were Masters of the game: Bobby Jones, Ben Hogan, and Jack Nicklaus. In addition, years ago, Chris worked vigilantly with an incredible PGA Professional, Ken Ferrell, who was on the same path. They'd immerse themselves in a golf think tank comparing and sharing information. He also took a detour from golf and studied baseball great Ted Williams' master work, "The Science of Hitting". Mr. Williams' discussion on how he hit a baseball was very enlightening. In fact, there are a lot of commonalities between hitting a baseball and a golf ball. Among those common elements are: power sources, balance, rotation, ground force leverage, extension… to name a few. As he dug into his "texts" he quickly understood that he was on the road to discovering why this game had achieved a level of mystical/mythical proportion. Golf has always been presented as "complex". It is, if you don't know what you're doing. Therein, lies the problem. The game boils down to proper swing repetition, a solid short game and sound on-course strategy. A crucial question is, how can you simplify learning the golf swing? As Chris "drilled down", the key to understanding the swing was starting to unfold. He went in the opposite direction of the game's Master Teachers with a solid background and began to unlock golf's mystery. To his surprise, he began to understand and uncover the fact that every author he read had missed the most critical issue concerning the golf swing. Nowhere in his reading did he uncover an analysis of what a golf club does to an individual to make learning the swing so difficult. The content of all these "professors" was excellent, but they all had failed to identify this most important question.  Chris identified those main problems.  (See "How & Why Tgolf Works")
According to an industry funded golf think tank (Golf 2020), Golf has 4 industry barriers to entry. These barriers are: Difficulty, Time, Expense and Accessibility. Little did Chris know that once he cracked the golf industry's Difficulty barrier, the other industry barriers would collapse. He thought how can you make it easier to hit a golf ball? There are three ways to do this: a bigger club face, a shorter shaft and move ball closer to eye level.
Chris invented Tgolf to answer this question. Working on swinging a golf club and ball striking from a position of superior balance and completing the universally accepted upright/horizontal plane drills creates an irrefutable golf industry paradigm.