Tgolf • Helping Our Veterans
We at Tgolf have no higher respect than for our veterans. There is no doubt that Tgolf can be an important part of rehabilitation, reducing stress, and improving physical, cognitive, social and emotional well-being .
Tgolf delivers a fundamentally sound and portable solution to individuals in areas that do not have golf course or driving range accessibility. We have proven that a sound golf experience can be delivered to parks, school grounds, beaches, fields, backyards, neighborhoods and everywhere else.
With Tgolf "The World is Your Golf Course".
Tgolf at PGA Tour FedEX Deutsche Bank Playoff Championship • Military Outpost – 17th Hole!
How Award Winning Tgolf

Helps Our Veterans
Teaching Pro Jim Estes & Chris MacDonald demo Tgolf!
Chris MacDonald collaborates with former PGA Tour player Jim Estes, who sees Tgolf for the first time and immediately changes his presentation to the NGCOA in Vegas.
Healthier US Veterans Magazine Article
TGolf System
Northport, New York
This adaptive golf program makes it possible for Veterans of any age—with or without disability, or experience playing golf—to take part in golf clinics and play the game of golf. Through participation in the clinics, Veterans can benefit physically and emotionally, and gain self-confidence and a sense of pride in personal achievement.
The T-Golf equipment and supplies are selfcontained and ready for implementation of an adaptive golf program for geriatric and physically challenged Veterans. The program is a developmental tool that immediately builds eye–hand coordination and teaches proper balance and weight shift. Participants establish upper and lower body connection and progressively establish spine angle (bending at the waist).
About the Project
At the suggestion of a staff member who attended a workshop on the T-Golf Program, a formal full-day certification course was offered to the Recreation Therapists and the Physical Medicine and Rehabilitation Service employees at the local and VISN levels. T-Golf uses a graduated tee system, which places the ball closer to eye level in a more natural position for hitting. The tees progressively build spine angle. The hitting area of the club is more than twice normal size. The club is shorter, which reduces the swing arc and makes the club easier to control. T-Golf can be used indoors or out, with individuals or groups, seated or standing. Users are encouraged to progress at their own pace, depending on their individual athleticism.
Presentation of the T-Golf instructional DVD was instrumental in highlighting the adaptive equipment and its simplicity and user-friendliness. Scheduled T-Golf Clinic sessions are held at the Community Living Centers (CLCs). The interest and participation of Veterans has increased steadily since the program began.
Impact of Project
T-Golf allows everyone, from beginner to expert, to play at a similar level. During the opening event competition of the "Salute to Wellness Program," 12 Veterans were placed in two divisions: Wheelchair and Open. Each patient was given 10 shots to hit a target, and the player in each division who hit the ball closest to the target was the winner. By using this system, the Veterans learned proper body mechanics and swinging skills.
The adaptive golf program will provide regular and ongoing exercise, increased range of motion, an emphasis on health and wellness, and achievable goals. This new treatment modality enables clinicians to customize interventions based on individual progress, level of ability, cognition, and pace. Because the game is so easy to play, potential users are encouraged to try it. Recreational therapists, for example, will find that any patient can play golf. Goals for physical, cognitive, and social well-being include:
Providing patients with adaptive equipment to learn or continue to play golf.
Increasing participation in golf clinics.
Quickly establishing the fun of hitting a golf ball.
Immediately building eye–hand coordination.
Increasing patients' physical activity and socialization with peers.
Key Challenges
The timing of the purchase of the equipment to coincide with the outdoor golf season was a challenge. The complexity of the VA fiscal process to create a new vendor was unanticipated, and extended the time needed to place the order. Once the new vendor was established, however, ordering of initial and additional equipment has not been difficult.
Although a winter golf clinic was planned, finding adequate indoor space has proved a challenge, because the gymnasium is under construction. Another large indoor space is available, but using it would require moving and assembling the equipment for each session.
Next Steps
In the future, formal programs for both indoor and outdoor T-Golf clinics are planned. In addition, a 9-hole golf course already exists on the medical center grounds, and expansion of the program to that facility is under consideration.
…………………………………………..
Cathy G. Lee, MS, CTRS
Denise Horton, MsEd, CTRS
Susan Pisano, MS, CTRS
Northport VAMC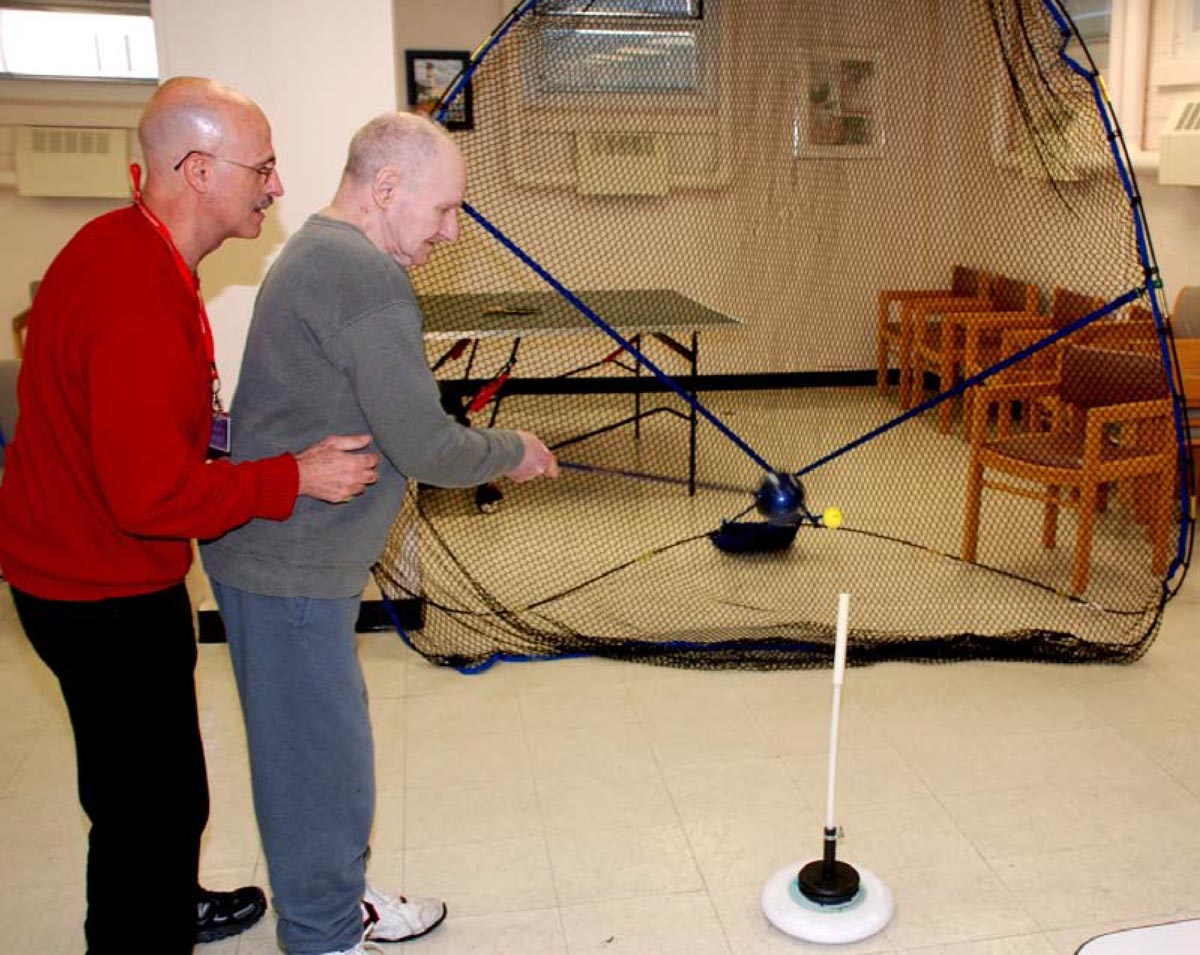 TGolf Helping Veterans
A Community Living Center resident accepted the invitation to be a T-Golf participant in the clinic. He not only attended the session, he is a regular participant in the golf clinics.
—Staff
"I'm happy to have had the opportunity to bring T-Golf to the Veterans. As we started out with just my equipment the program has flourished and the Veterans are able to golf year round"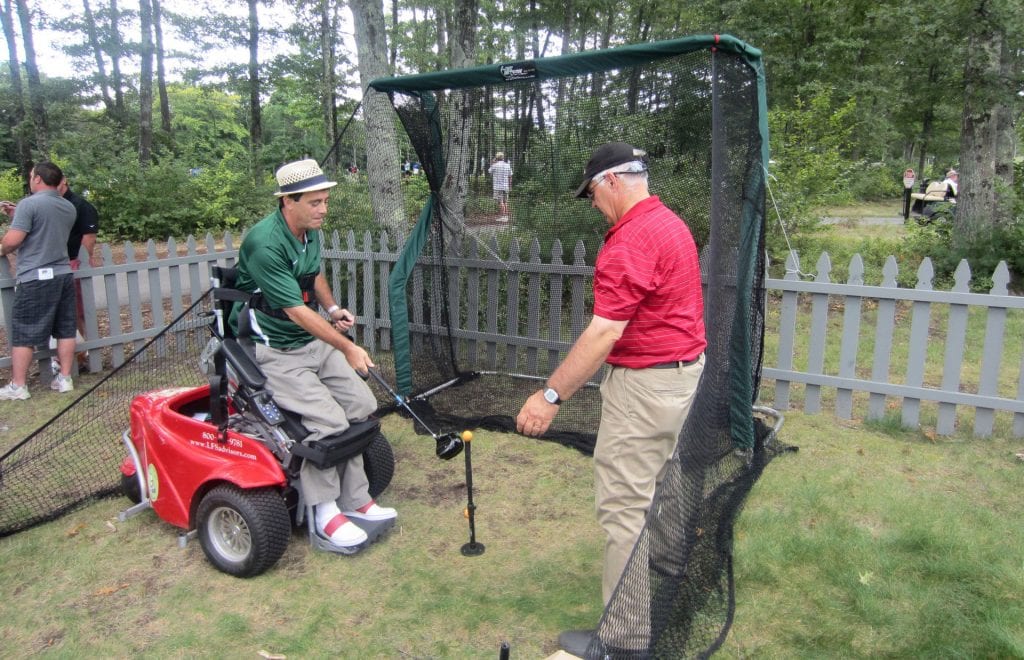 Veterans Love TGolf
The incredible potential that Tgolf offers
Tgolf and one of our veterans at the PGA Tour FedEX Deutsche Bank Playoff Championship • Military Outpost - 17th Hole!
Tgolf Veterans Gallery
Click on image to see slides
A Simple 4-Step Lesson for Beginners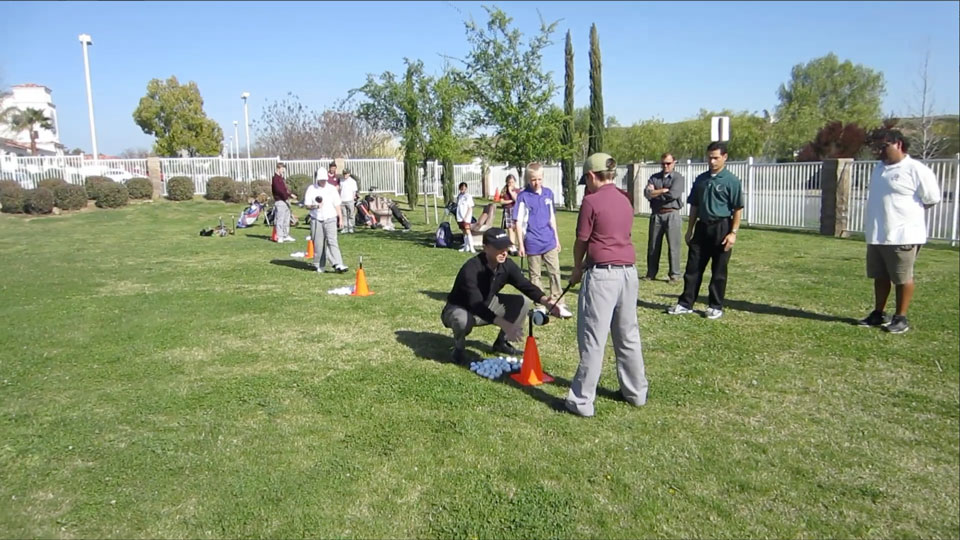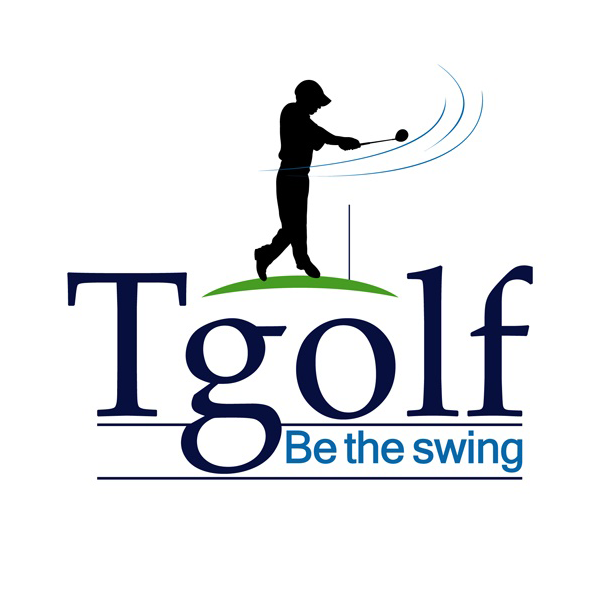 PGA Pros & Members on Tgolf
PGA professionals, teachers and members agree on the value of Tgolf to improve any golfers game, regardless of their skill level!
"The Tgolf Telescoping Swing Trainer is a tremendous advance in the world of training devices... all based on simplicity. It's ability to assist any golfer with proper balance, rotation and tempo is unlike anything on the market today.and at a learning curve that is both fast and fun. Working with this system will improve the fundamental swing mechanics of all golfers, from beginners to the PGA professionals I work with."
"T-Golf will revolutionize the way people learn to play."
"Tgolf is a tremendous training aid that takes the complicated movement of the golf swing and simplifies how to create power and the correct swing motion. This fundamentally sound simplicity will help grow the game because it quickly and efficiently delivers the excitement of hitting the ball while creating the proper motion that is easy to duplicate. Tgolf is especially helpful in transitioning athletes into golf."
What people have to say about Tgolf
It don't mean a thing if you can't get that swing!
With all the talk among golf industry pundits about making the game easier to attract new players, T-Golf® of San Clemente, CA is doing something about it.
I have had discussions with Chris MacDonald about a training aid called T-Golf. We have the product here at The First Tee of Metropolitan New York and are enjoying great success with it.
You guys are the best! Thanks so much for the T-Golf Clinic, we do want you at our Summer Games. Let's stay in touch. Thanks for helping to keep our athletes focused.
You guys are the best! Thanks so much for the T-Golf Clinic, we do want you at our Summer Games. Let's stay in touch. Thanks for helping to keep our athletes focused.
After ordering the T-Golf system at the PGA Merchandise Show, I couldn't wait for the shipment to arrive.  I had high expectations that it would be a great tool to enhance my instruction program.  Well, at the end of the first day that I put it into the hands of my students, my greatest expectations were exceeded.
T-Golf® will revolutionize the way people learn to play.